DC Systems
CE + T
UPS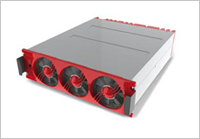 AGIL: a new modular UPS that optimizes space
AGIL is a new modular UPS that optimizes space, is fully scalable, and protects the environment in data centers, IT rooms and other operating spaces. AGIL protects critical AC loads while reducing your total cost-of-ownership. It reduces the costs associated with energy consumption, infrastructure and maintenance, as well as the carbon impact of all DC and AC infrastructure.
AGIL is a combined modular inverter-charger. Dynamic Source Transfer allows the smooth transfer of loads to the DC battery during AC input failure. AGIL's high efficiency saves energy, reduces cooling capacity, reduces your carbon footprint and increases back-up time. The AGIL family of UPS' is also easy to deploy, integrate and manage. Its small footprint saves space in data centers and IT rooms. Moreover, modules are hot swappable and hot pluggable, and AGIL supports power management at module level.
Applications
The AGIL range is ideal for information technology, telecommunications and industrial applications that require smooth and efficient power management. It supports critical applications that need a reliable AC output power with a long battery back-up time.