DC Systems
Enatel
5U MAXIÂ COMPACTÂ SYSTEM 1.0 - 14.0kW 48V DC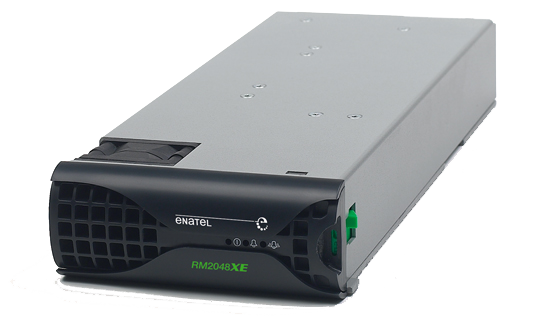 48V
nominal output voltage.
2.0kW
nominal output power.
41.7A
maximum output current.
AC Input

Nominal

230V

Voltage Range

90-300V (reduced power below 175V)

Frequency Range

45-65 Hz

Power Factor

>0.99

Efficiency

>94% (from 30-95% output power)

Input Fuses

HRC fuses in phase and neutral.

Maximum Input Current

12A

Protection

Input Voltage: Auto shutdown, auto restart when correct voltage restored.
Input Inrush: <2x maximum input current.

DC Output

Output Ratings
Constant power output from 48V to 58V

Nominal Voltage

48V

Rated Voltage

58V

Voltage Range

43-58V

Maximum Current

41.7A

Regulation

Line: ±0.1%, Load: ±0.5% (no load to full load)

Hold-up Time

>15ms for 20% output voltage drop.

Start-up Time

Start up delay 1 second. (varies with AC supply voltage)
Walk-in delay 6 seconds at full output. (varies with DC output voltage)

Protection

Current Limit: Adjustable to 50-100% of maximum rated current.
Over Temperature: Automatic current turndown, backup shutdown protection.
Polarity Reversal: Output fuse with crowbar diode.
Over voltage: Adjustable limit.

Noise

Ripple <100Hz: <1mV rms unweighted
Voice band 100Hz-5KHz: <1mV rms psophometric
Wide band 5kHz-1MHz: <5mV rms unweighted
Peak to Peak 0-20MHz: <100mV peak to peak

Isolation

Input to Output: 4000V DC.
Input to Chassis: 3500V DC (VDR to chassis removed)
Output to Chassis: 2100V DC

Environmental

Ambient Temperature

Nominal: 25+/-5ºC

Range

-30ºC to +70ºC (maximum output power is derated above +40ºC)

Humidity

5-95% RH (non-condensing)

Altitude

<2500m, De-rate maximum ambient temperature by 4ºC per 1000m above sea level.

Mechanical

Dimensions, W, H, D

111.5mm, 44mm (1U), 282mm overall (rack depth 260mm)

Weight

1.5kg
Cooling
Forced cooled.
Compliances
Electrical Safety
EN 60950
RFÂ Emissions
CISPR 22 Class B
RFÂ Immunity
CISPR 24
AC Harmonics
EN 61000-3-2
AC Flicker & Fluctuation
EN 61000-3-3
RoHS
2002/95/EC
Consumer Safety
CE
Not all systems are available in all markets, please contact us for any further information. Due to product development specifications are subject to change without prior notice. Pictures may be representative, actual products may differ.